Presentation
Situated in LE TOUQUET-PARIS-PLAGE, at 100 meters from Saint-jean Street and 200 meters from the beach, the notary office of Maître Camille Hornez makes reactivity the keystone of its operation.
The French notaries are legal specialists with a mission of public authority which draw up authenticated contracts on behalf of its clients. They carry out their activities as self employed professionals.
We offer to each of our customers tailor-made and scalable solutions.
Together, we develop a strategy and draw up the necessary acts for its implementation.
Our professionalism will be useful to you in various fields of expertise, namely :
Real estate law
Fiscal legislation and tax system
Corporate law and Business law
Family and property law
Local authorities
Rural and environment
Available and mobile, we travel all over the country to assist you and serve your interests in the best possible way.
Even if the immediacy of a response is not always compatible with the reflection that we must have on our files, we make every effort to provide you with a quick answer.
The Office assists its clients, families, companies and liberal professionals in all aspects of property law.
From asset assessment to tax assistance, we support you in your reflection and give life to your projects.
Thus, we intervene in estate and tax strategies, family transmissions, matrimonial regimes, inheritance and partition, wills and life insurance, separation of couples.
Specialized in the amicable management of family conflicts, the Office will guide you to find family solutions.
Whether you are cohabitants, civil partnership or married, we support you in your separation project and its civil and fiscal consequences.
The loss of someone you love arouses grudges and this is why, "at least as much as death, sharing can be a great family crisis" (P.MALAURIE and L.AYNES, Droit civil, Les successions, Les libéralités, Defrénois, 2004, n° 850). We will assist you in your partition negotiations and preserve the interests of each of the heirs.
It is imperative to promote the amicable resolution of conflicts and the notary is a key player in this.
The notary is a traditional player and an outstanding practitioner of real estate law. In a complex and constantly evolving legislative context, the office provides legal security for real estate sales and leases and their financing.
Thus, we accompany you in the realization of your real estate project, by bringing an attentive care to the particularities of this one, related in particular to:
- To the parties to the act: individuals, professionals, institutions, communities or public establishments ;
- The nature of the property: Detached house, housing complex, building land or not;
- To the destination of the property: Agricultural and forestry exploitation, Housing, Trade and service activities, Equipment of collective interest and public services, Other activities of the secondary or tertiary sectors.
- To the application of special regulations: taxation, urban planning, public law, rural law, collective procedures, prevention and treatment of pollution, land advertising ... ;
- To the ambitions of the parties: acquisition of a main or secondary residence, rental investment, tax optimisation.
The Office deals with all aspects of business law:
- The implementation of an exploitation strategy,
- Drafting of company statutes: civil society, S.A.R.L., S.A.S.,
- Formalities related to the creation of a business: registers of commercial courts, administrative authorizations (licences, Regional Health Agencies, Establishments Receiving from the Public, etc.),
- Methods of holding or enjoying professional real estate (acquisition, commercial leases or derogations),
- The optimization of the transmission of the corporate, for a fee or free of charge
Networks and certifications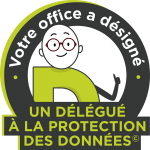 Office that has appointed a Data Protection Officer
Office that has appointed a Data Protection Officer
Our Prices
A distinction should be made between tariffed acts for which the notary receives emoluments (sales, donations, marriage contracts, successions, etc.) and non-tariffed acts for which the notary's fees are free.
All our prices
Downloads
Vente immobilière
Questionnaire état-civil
Ouverture d'un dossier de succession (pièces à fournir)
Ouverture d'un de cession de fonds de commerce (pièces à fournir)